Where are you from? So beginnen 99 von hundert Konversationen in Indien – egal ob mit "Massenmarkt-Inder" an der Bushaltestelle oder mit "IT-Inder" auf der Konferenz zu Cloud-Computing. Wenn mir nach einem Gespräch zu Mute ist, sage ich "A-u-s-t-r-i-a", sonst der Einfachheit halber "Germany". Weil in 90 dieser 99 Fälle mein Gegenüber "Australia" versteht – denn Österreich ist in Indien nur Wenigen ein Begriff. Im Gegensatz zu unserem kleinen Nachbarland, der Schweiz, die hier eine starke Marke ist. (Indische Wirtschaft berichtete)
Österreich ist dem gemeinen Inder unbekannt. Und wenn, dann werden wir mit Weltkrieg und "Sound of Music" assoziiert. Na toll! Auch wenn heute schon viele Bollywood-Filme in Tirol und Salzburg gedreht werden, werden diese hier dann der Schweiz zugerechnet, sodass wir indirekt Werbung für das Berner Oberland machen. Das letzte Mal als unsere kleine Alpenrepublik in den indischen Medien war, war die zur Unterzeichnung des umstrittenen Atomvertrags zwischen der Internationalen Atomenergiebehörde und Indien im Jahre 2008.
Gestern war es dann wieder soweit. Österreich schaffte es auf die Titelseite der "Times of India" – mit der Schlagzeile "1st sex college opens in Austria"
. Im Artikel wurde dann nur das britische Tabloid Daily Mail zitiert – aber lesen Sie selbst: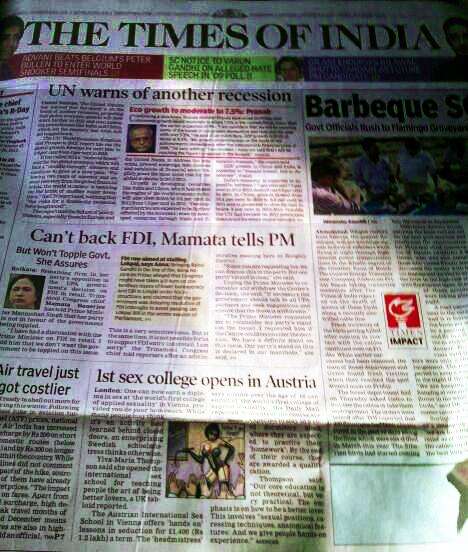 So viel zu Außenwahrnehmung Österreichs in Indien.
(Kommentar von Wolfgang Bergthaler)
Similar Posts: