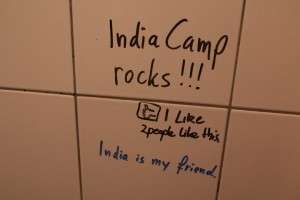 Wir tuns noch einmal! Nach dem großartigen Erfolg des ersten IndiaCamps im April, haben wir uns entschieden, 2012 noch eins drauf zu setzen. Wir haben bereits heute Termin und Location fixiert: Das IndiaCamp 2.0 findet am Samstag, dem 28.April 2012 im HUB Vienna statt. Please save the date!
Wir freuen uns schon auf die vielen tollen Beiträge aller Teilnehmer, inspirierende Diskussionen und Gespräche sowie eine würdige After-Party bis in die frühen Morgenstunden
.
Nochmals zu Erinnerung: Diese Veranstaltung wird im Stil eines Barcamps abgehalten. Das bedeutet, dass jeder Teilnehmer selbst zum Gelingen der Veranstaltung beiträgt – nicht zuletzt dadurch, dass Jeder sich selbst für das Vortragen seines Spezialgebiets melden kann. Grobe Vorschläge werden bereits vorab im Web gesammelt; die Finalisierung des Tagesplans erfolgt am Morgen des Events.
Zielgruppe sind EuropäerInnen und InderInnen aus Wissenschaft und Wirtschaft, Selbständige und Changemaker; Berufstätige ebenso wie Studentinnen und Studenten. Ziel der Veranstaltung ist ein Erfahrungs- und Wissensaustausch zum Thema Indien. Die Schwerpunkte liegen dabei auf folgenden Fachbereichen:

* Wirtschaft, Entrepreneurship & Innovation
* Politik & Soziale Entwicklung
* Lifestyle, Medien, Musik & Film
Hier findest du den Rückblick zum IndiaCamp 2011 sowie die Fotos
Wir freuen uns schon heute, fünf Monate vor dem Event, auf dieses geniale Event und auf Eurer Kommen. Stay tuned and save the date!
(Eure Gastgeber Wolfgang Bergthaler und Stefan Mey)
Similar Posts: