In Indien haben 50 % der EinwohnerInnen immer noch keinen Zugang zu Toiletten. Jedoch besitzen die ärmsten Jugendlichen ein Smartphone oder es ist ihr größter Wunsch, eines zu besitzen. Design und neue Technologien haben sich zum Modewort in der massenproduzierenden Industrie der Schwellenländer entwickelt, die hungrig danach sind, die wirtschaftliche Macht erfindungsreicher Branchen zu optimieren.
China und Indien wandeln sich in beispielloser Geschwindigkeit infolge ihrer Entwicklungen von Designprodukten, und zwar mit enormen sozialen und ökologischen Folgen, ausgehend von urbanen Entwicklungen über die Nachfrage der KonsumentInnen bis hin zur Entwicklung von Kommunikationssystemen.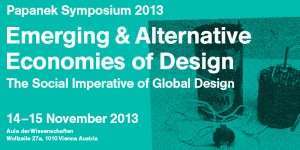 Das Papanek Symposium 2013 bringt internationale Expertinnen und Experten aus China, Europa, Indien, Singapur und den USA zusammen
. Es startet mit einem Vortrag von Vinay Venkatraman über Frugal Digital Design.
Vinay Venkatraman eröffnet das Symposium mit seinem Vortrag 'Frugal Digital Design: Technology for the Underserved'. Soziale und politische Erfordernisse sich entwickelnder Wirtschaften untersuchend, prüft er, wie sich alternative Design-Genres an der Peripherie der etablierten neoliberalen Modelle unserer expansiven Konsumkultur entwickeln könnten. Als Mitbegründer des Copenhagen Institute of Interaction Design (CIID) und TED-Sprecher wird Venkatraman das Thema Digitales Design in Entwicklungs- und Schwellenländern erörtern.
Als ausgebildeter Produktdesigner und Interaction Designer in Indien und Italien unterstützt Venkatraman die politischen
Initiativen der dänischen Regierung und berät globale Unternehmen auf den Gebieten innovative Produktgestaltung und Designstrategie. Zu seinen früheren Kunden zählen Nokia, Intel, Novo Nordisk, Maersk Line, Lufthansa Technik, Philips Leuchten. Seine Leidenschaft liegt im Ausbrüten von neuen Ideen und in der Suche nach neuen Modellen für eine nachhaltige sozioökonomische Entwicklung mit Hilfe geeigneter Technologien. Er wird diese Ideen beim zweiten Papanek-Memorial-Vortrag mitteilen.
Papanek Symposium 2013: Alternative and Emerging Economies of Design – The Social Imperative of Global Design
am 14. – 15. November 2013 in der Aula der Wissenschaften, Wollzeile 27a, 1010 Wien
Kuratiert von Alison Clarke und Heng Zhi mit freundlicher Unterstützung des Bundesministeriums für europäische und internationale Angelegenheiten
Öffentlich zugängliche Veranstaltung, Eintritt frei
Anmeldung unter: www.papanek.org/symposium
Similar Posts: